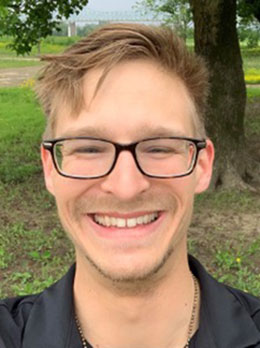 Kassidy Rodriguez
President 
kxr657@miami.edu

Kassidy Rodriguez is from Salt Lake City, Utah and earned a B.S. in Chemistry from Augsburg University (2016) in Minneapolis, MN. At Augsburg, his research focused on the interfacial rheology of graphene oxide and their interaction with phospholipids. He then obtained a M.S. degree in Chemistry at the U of MN, Duluth where his thesis work investigated the intracellular trafficking of the amyloid precursor protein using fluorescence techniques and live cell imaging (2020). Kassidy started in the Department of Chemistry at UM as a Ph.D. Student (2020) where his current research is on understanding the mechanism of a nonheme iron enzyme, EgtB, its role in ergothioneine biosynthesis and its impact on enhanced multi-drug resistance. 
---
Ifigeneia Tsironi 
Vice President 
ixt147@miami.edu
Ifigeneia Tsironi is from Crete, Greece. She received her Bachelor of Science in Chemistry from the National and Kapodistrian University of Athens in 2018. In the same year she joined the graduate program of the University of Miami. She is currently working on creating structurally defined nanostructures by locking-in NDI-based superstructures at the equilibrium state and when placed out of equilibrium. In her free time, she enjoys wrestling, skateboarding listening to music, swimming and playing video games. 
---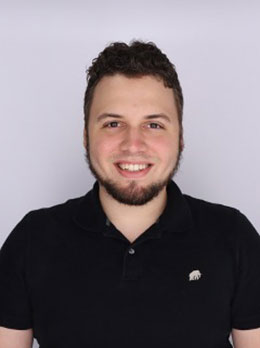 Victor Paulino was born in the Dominican Republic and migrated to the United States when he was 15 years old. He received his B.S. in Biochemistry from Florida International University. Borrowing from his experience in Biological and Inorganic chemistry research laboratories, Victor joined the Olivier lab in the Chemistry Department in 2018 and is currently working on water-soluble π-conjugated supramolecular polymer-based systems that demonstrate neoteric and reversible structure-function property changes upon continuous input of chemical fuel and the covalent arrest of their structural conformation. He has a passion for chemistry and science overall. In his spare time, he likes reading non-fiction science/history, fishing, and hiking. He's a tenor at his church choir and loves to travel.
---
Caroline Velez attended Adelphi University in Garden City, NY, where she received a B.S. in Chemistry with a minor in Mathematics. In 2018, Caroline was awarded the McKnight Doctoral Fellowship by the Florida Education Fund to pursue her graduate studies in computational chemistry. Caroline is currently a Ph.D. candidate under the supervision of computational chemist Orlando Acevedo, Ph.D. Her current research covers an expansive number of applications and technical areas in computational chemistry that include protein dynamics, drug discovery, machine learning, catalysis of organic reactions, and environmentally friendly solvents. Caroline was awarded the University of Miami, College of Arts and Sciences, Dean's Academic Year Dissertation Award in 2022 to complete her dissertation research.