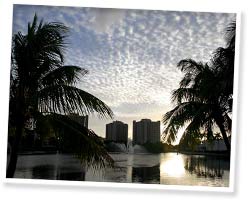 ‌Medical Insurance
Health insurance is available for major medical and hospitalization coverage from a private company for all full-time graduate students. Although personal health insurance is recommended, students do not need to have health insurance to use Student Health Center services. For further information, please contact Student Health Services at 5513 Merrick Drive, Coral Gables, Florida 33146-2591; phone (305) 284-5927.
Student Wellness Center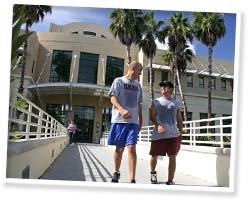 ‌The George A. Smathers Student Wellness Center is a state-of-the-art 114,000 square feet recreation and wellness facility located in the Coral Gables campus. On the first floor, the Center has a 10,000 square feet fitness room, a floor hockey/indoor soccer gymnasium, six racquetball courts, two squash courts, a swimming pool, spa, two saunas, a multi-purpose room, men's and women's locker rooms, and a juice bar and lounge. The second floor includes, classrooms, instructional kitchen, conference room, fitness lab, computer lab, and administrative offices. The Wellness Center also has 35,000 square ft. of outdoor space with a courtyard and four basketball/volleyball courts. If you are not going to be using the Wellness Center, please remember to complete the waiver form Wellness Center Waiver
Child Care Center, UM/Cantebury
The University of Miami/Cantebury Preschool is located on campus at 1150 Stanford Drive. Children of University faculty, staff and students are eligible to attend. Half- and full-day infant, toddler and preschool programs are provided with proved quality care and excellence in early childhood education. Teachers and assistant teachers are certified in early childhood education. The environment, equipment, materials, and activities encourage each child to be actively engaged in meaningful and developmentally appropriate learning. For further information, please contact
UM Canterbury Preschool, 1150 Stanford Drive, Coral Gables, Fl. 33146; phone (305) 284-5437
Other Services
Many other services are offered to assist in the well-being of students. The Counseling Center provides emotional support and career counseling. The Student Health Center is an on-campus, ambulatory (outpatient) medical center. Officers from the Department of Public Safety are visible on campus in patrol cars, on bicycles and on foot. An escort service also is available and safety programs are conducted throughout the year.