‌
‌
Jeramy Buam
Jeramy Baum is a PhD student in the Bachas lab with a research focus on developing a non-invase diagnostic for the detection of biomarkers and pollutants in breath and air. With the  Field Asymmetric Ion Mobility Spectrometry (FAIMS) the long term goal is to demonstrate feasibility and then develop a sensor for drowsiness detection in vehicles for accident prevention, a firefighter pollutant waring system, and acute kidney injury detection for ICU patients limiting secondary complications though early intervention. Jeramy's background includes a B.S. in Chemistry from Valdosta State University with focus on medicinal and analytical chemistry. After graduation Jeramy continued at VSU as a research assistant employee to continue his prior research on drug delivery systems of marine natural products including the modification and improvement of cancer drugs (Taxol derivates) and investigation of nano-bacteria.
 E-mail: j.baum2@umiami.edu 

Ed Miller
Ed Miller is a Ph.D. student who is currently examining the photocatalytic debromination of polybrominated diphenyl ethers (PBDEs) using copper(I) oxide cubes surface-decorated with palladium metal nanoparticles.  His background includes B.S. degrees in Chemistry and Computer Science from the University of Cincinnati and an M.S. in Inorganic Chemistry from The Ohio State University.  Before entering the graduate program at the University of Miami, Ed worked as a software engineer at Texas Instruments, developing Electronic Design Automation (EDA) software, and as an independant developer of WebOS software applications for the Palm Pre smart phone platform, including 'Wake2Music,' an alarm clock radio that won an award as one of Palm's top 100 'Hot Apps.'
E-mail: e.miller16@umiami.edu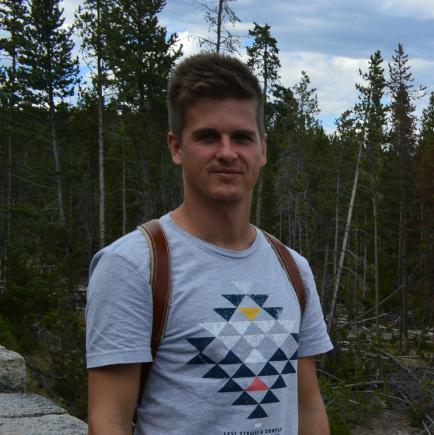 Marcell Palmai
Marcell Pálmai is a research scholar at the University of Miami. He received his M.S in chemical engineering from the Budapest University of Technology and Economics. After graduation he was working at the Hungarian Academy of Sciences on the synthesis of different silica nanoparticles for biological use. At UM he is working on the preparation of BiVO
4
nanocatalyst for environmental use.  His hobby is mountain climbing and cycling.