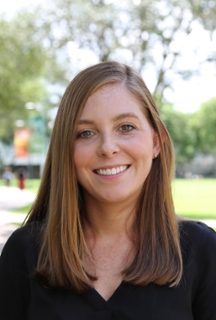 Contact information:
Professor Katlyn K. Meier
Office: Cox Science Building, Room 353
Lab: Cox Science Building, Room 352
Office Phone: 305-284-9807
Email: kmeier@miami.edu

 

 

 

 

Katlyn K. Meier, PhD

Professor Meier obtained her bachelor's degree in Physics from Allegheny College in Meadville, Pennsylvania in 2009. That same fall, she went on to join the lab of Professor Eckard Münck (Physical Chemistry) in the Department of Chemistry at Carnegie Mellon University. Her doctoral work at Carnegie Mellon University focused on characterization of high-valent iron complexes, both enzymatic and synthetic models, proposed for applications in environmental and biomedical chemistry. During her PhD she became expert in Mössbauer and Electron Paramagnetic Resonance spectroscopies as well as Density Functional Theory calculations – skills that are workhorses in the Meier Lab at UM.

After completing her PhD, Katlyn moved across the country and started her tenure as a postdoctoral research fellow in the lab of Professor Edward Solomon at Stanford University (Physical Inorganic Chemistry). From 2015-2018, she was a National Institute of Health Ruth L. Kirschstein National Research Service Award fellow, and her research focused on the characterization of copper-containing enzymes involved in biological dioxygen activation with an emphasis on understanding the mechanisms of O2 activation in systems including the polysaccharide monooxygenases, formylglycine generating enzyme, and tyramine-beta monooxygenase. Her training in additional biophysical techniques such as circular dichroism, magnetic circular dichroism and resonance Raman coupled with enzyme purification and sample manipulation techniques and kinetics analyses provided her with the training necessary to start her lab at UM.

Professor Meier joined the UM faculty as an Assistant Professor of Chemistry in August 2019 and couldn't be happier to be a 'Cane!

Fun Fact: Katlyn enjoys hiking and is an avid runner. She's hiked throughout the bay area as well as the Grand Canyon, Zion National Park, and Haleakala National Park to name a few. She has a lot more on her bucket list.